Step 1

Add a Recycling Kit to your cart before checking out. Recycling Kits are FREE and can be added to your coffee order to avoid shipping charges.

Step 2

About 100 coffee capsules, or 200 espresso capsules, will fit in the Recycling Kit. Once your Recycling Kit is full, close and seal the kit.

Step 3

Drop off your Recycling Kit at any UPS location. Your Recycling Kit comes with a pre-paid UPS label attached to it.
Infinitely Recyclable Aluminum
L'OR coffee and espresso capsules are made from aluminum to provide you with the best taste experience. Aluminum is known to effectively lock the aroma and flavors of coffee for an intense taste experience. Additionally, aluminum can be infinitely recycled, when separated appropriately.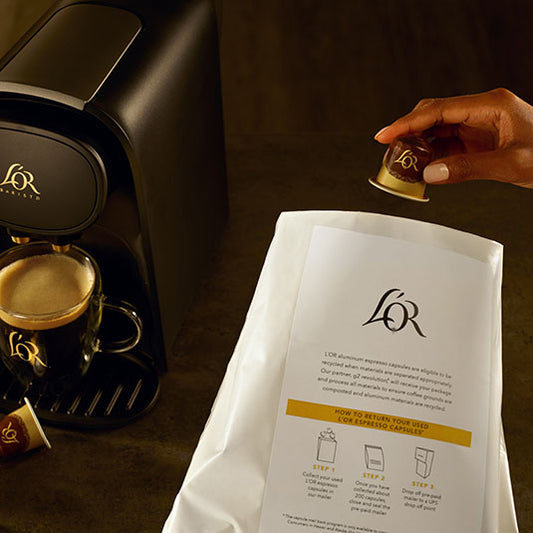 L'OR Free Recycling Kit
Add the FREE Recycling Kit to your order, fill, and return your used capsules. We'll take care of the rest.
The capsule mail-back program is available to consumers in the contiguous 48 states. Consumers in Hawaii, Alaska or other regions should check locally for capsule recycling programs.

GET THE RECYCLING KIT
About g2 revolution®
g2 revolution® provides and develops innovative recycling solutions that are tailored to meet the sustainability goals of retailers and manufacturers. The g2 revolution team analyzes all products to find Second Life® possibilities, especially for hard to recycle items and materials. In addition to providing mail back programs, g2 revolution also partners with local non-profit organizations to ensure that our program gives back.