Coffee & Espresso System
L'OR BARISTA Coffee & Espresso System 100 Capsule Bundle
Regular price
$262.48
Sale price
$169.00
Unit price
per
Limited Time Offer
L'OR BARISTA System
+ 100 Capsules
plus FREE Shipping
Ships in 3-5 days. Free shipping over $35.
Bundle Includes:

L'OR BARISTA System

50 Coffee Capsules

50 Espresso Capsules

Glassware not included
L'OR BARISTA System Details
Inspiring taste, perfectly crafted. High pressure guarantees rich flavor extraction from our finest coffee beans. The unique L'OR BARISTA system applies pressure to create coffee and espresso crowned with crema in a range of 6 different beverage sizes. Our gold-standard coffee is always topped with crema, a delicate top layer of luxurious golden foam that enhances flavors and aroma in every cup for a velvet-smooth drinking experience.

Craft your favorite café beverages with a variety of L'OR single-serve coffee and espresso capsules, masterfully curated by L'OR Coffee Artists. Create your own masterpiece in taste.
High pressure system extracts rich flavor from the coffee beans
Brews 6 different beverage sizes all crowned with rich, golden crema
Capsule recognition technology adjusts beverage size
Integrated waste bin
Fast 25 second heat-up time
Large 40 oz. water tank
Optional drip tray included for smaller glassware 
Removable spout
Sleek matte finish with premium metal and gold detailing
11" height x 7" width x 16" depth
120 V, 1450 W, 60Hz
50 Coffee Capsules
10 x Bonjour Light Roast Coffee
10 x Chateâu Medium Roast Coffee
10 x Provocateur Medium Roast Coffee
10 x Le Tigre Dark Roast Coffee
10 x Vanilla Flavored Blend Coffee
50 Espresso Capsules
10 x Colombia - Intensity 8
10 x Profondo Lungo - Intensity 8
10 x Or Absolu - Intensity 9
10 x Ristretto - Intensity 11
10 x Onyx - Intensity 12
Bundle offers are not combinable with other discounts or codes.
Coffee assortments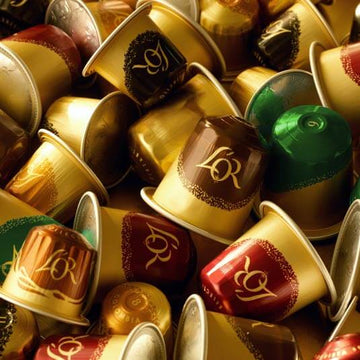 Coffee assortments
Variety Packs
We have a range of coffee & espresso variety packs to suit every taste.
Shop Now
Customer Reviews & Questions